The year we are a bit overwhelmed with the size of our persimmon harvest!  And the pomegranate tree has been quite plentiful too.  I created this cake to help use up some of the fruit.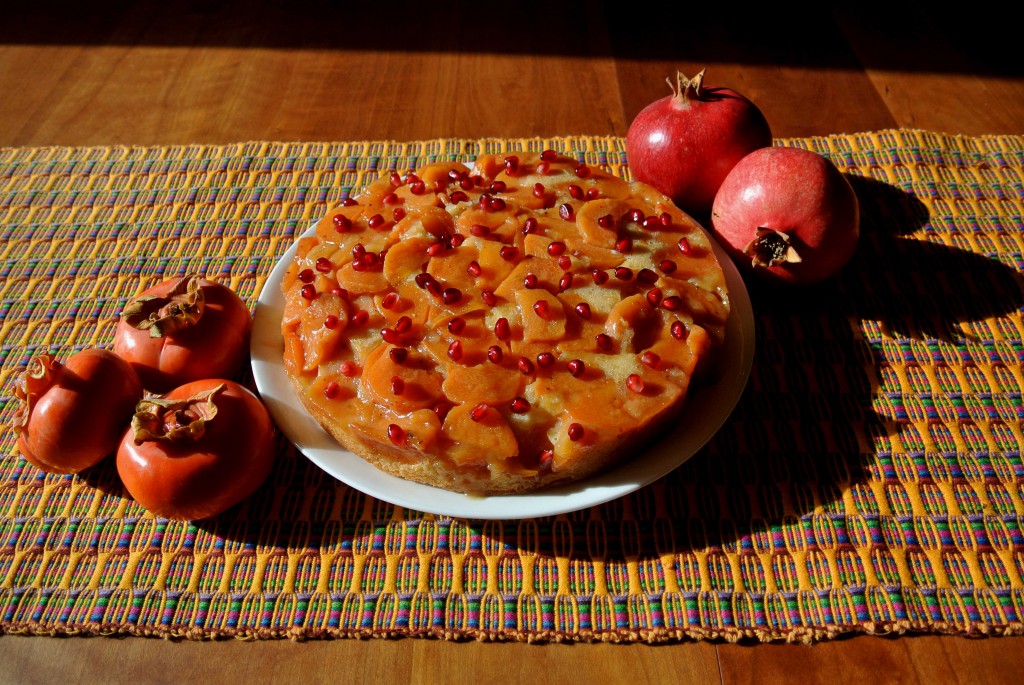 Use a light touch when adding the spices.  The cake is delicate and a little spice goes a long way.
For the topping you'll need:
1 1/2 pounds Fuyu persimmons
2 tablespoons butter
4 tablespoons sugar
2 pinches cinnamon
1 pinch nutmeg
1 pinch salt
1 tablespoon lemon juice
Peel, core and slice the persimmons.  Heat all the topping ingredients in a saucepan over low heat until the fruit starts to soften and the liquids bubble.  Do not overcook the fruit or it will turn to mush when you bake it.  If there is a lot of liquid in the pan, scoop out the fruit and boil the liquid until it reduces to 1-2 tablespoons.
Set the topping aside.
Preheat your oven to 350 degrees.  Butter and flour a 9 inch cake pan.
Prepare the batter.  You'll need:
1 1/4 cups flour
3/4 cup sugar
1/2 teaspoon baking powder
1/4 teaspoon baking soda
1 pinch salt
8 tablespoons (1 stick) unsalted butter at room temperature
1/2 cup sour cream
1 egg plus 1 egg yolk
1/2 teaspoon vanilla
Combine all of the dry ingredients in the bowl of a stand mixer.  Cut the butter into chunks and blend into the flour mixture until the mixture has smallish lumps.  Add the remaining ingredients and mix on low until combined (about a minute).  Scrape down the bowl and mix on high for another minute until the dough is smooth and thick.
Spread the fruit into the bottom of the pan.  Spoon the batter on top of the fruit and gently spread it evenly across the pan.  The batter is thick so patience is needed to keep the fruit in place while spreading the batter.  Work slowly and the batter will eventually settle in.
Bake the cake for 35 minutes or until a toothpick comes out clean.
Cool for about 10 minutes before inverting the cake onto a plate.
Garnish with:
2 tablespoons pomegranate seeds
I prefer to serve this cake at room temperature.  I find it a bit soft and crumbly when it's still warm.
Enjoy!