I can't believe it's May. I'm almost to the end of my year of stash quilting!
For this month's project, I extended my wandering geese squares into long strips.  As the strip progresses the geese separate.

I created two strips which wander in opposite directions.  I thought it looked too plain when the two were placed side by side so I added a bright center strip and a vivid sash.
This project was complete improv.  I discover that improve piecing equals lots of left over scraps!  While I love the look of my finished pattern, I need to find a more economical way to create the pieces for next time.  I was glad I used stash fabric when I trimmed away so much material.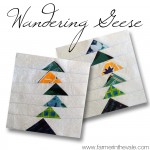 I thought about writing a pattern for this quilt, but it's just too darn confusing and wasteful!  I will try to develop a simpler method.  Don't despair, this is not the last you'll see of wandering geese.