This is one of my all time favorite recipes!  The cumin seed adds an unexpected hit of spice to this sweet pepper jelly.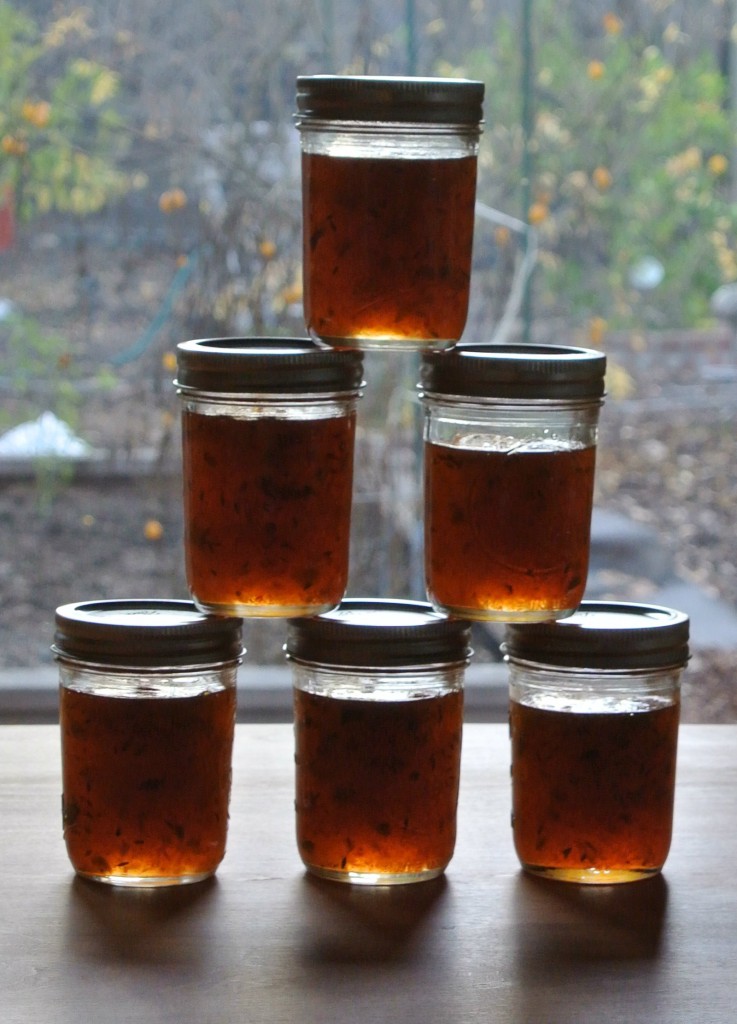 Since the book containing this recipe is out of print I think it's OK to reprint the recipe here.  BTW, if you ever see "Preserving the Taste" by Edon Waycott at your used book store buy it right away!
I love to serve pepper jelly on crackers with sharp cheddar cheese.
For this recipe you'll need:
3 large bell peppers in a variety of colors (green, red, yellow, orange, etc)
1/2 onion
4 hot peppers, I prefer jalapeno
2 teaspoons kosher salt
5 cups sugar
1 1/2 cups red wine vinegar
1/2 cup lemon juice
1/2 teaspoon chili powder
1/4 teaspoon cayenne pepper
1/2 teaspoon crushed red pepper
6 ounces liquid pectin (1 package)
1 tablespoon whole cumin seeds
8 half pint canning jars and lids
Roughly chop the bell peppers and add them to a food processor.  Process the peppers until they are very finely chopped.
Chop the onion and hot peppers into a medium dice.  Add them to the food processor and pulse a few times.  There should still be small pieces of onion and hot pepper in the mixture.
Add 1 teaspoon of salt and transfer the mixture to a wire strainer.  Drain for 3 hours, occasionally pressing the mixture to extract all excess liquid.
Sterilize the canning jars.
Lightly toast the cumin seeds by warming them in a small pan for a few minutes.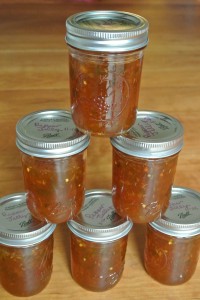 In a large saucepan, combine the peppers and onions with all remaining ingredients except the pectin and cumin seeds.  Bring to a boil and simmer over low heat for 10 minutes, stirring occasionally.  Add the pectin and boil for exactly 1 minute.   Stir in the cumin seeds.
Transfer the jelly to the jars.  Seal and process in a hot water bath for 5 minutes.
Enjoy!