On our recent stay at Drakesbad at Lassen National Park, we had a wonderful shrimp salad as a side with lunch.  I was inspired to take the same ingredient and create a main dish.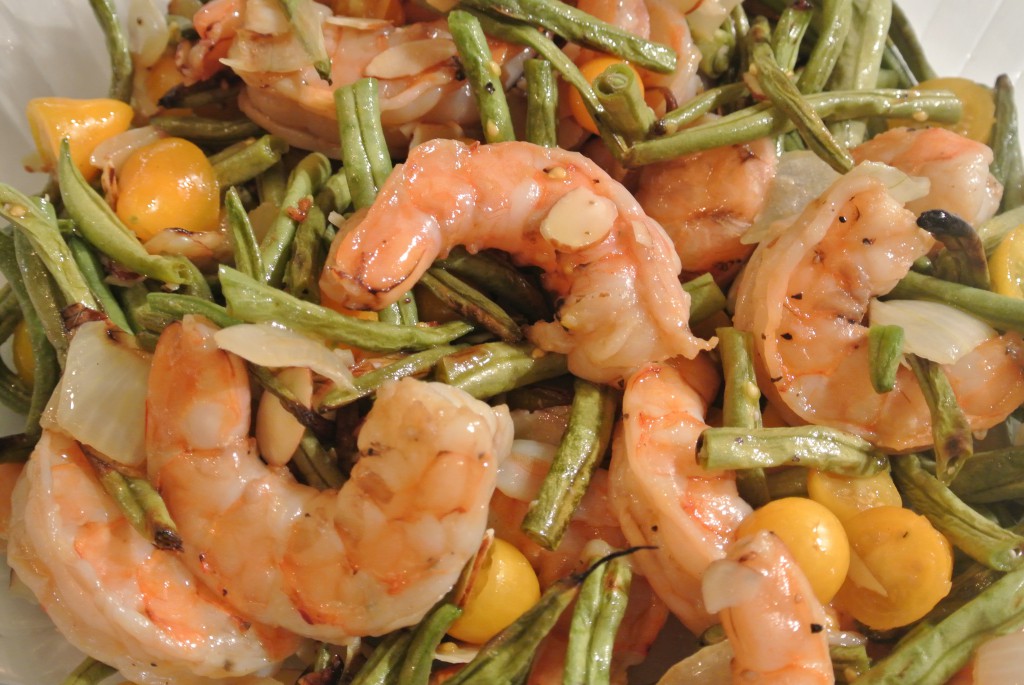 You'll need:
1 pound shrimp, any size you like
1 clove garlic
1/2 sweet onion
1/2 pound green beens
4 ounces (about 1/2 cup) cherry tomatoes
1 tablespoon sliced almonds
olive oil
sesame oil
sherry vinegar (or white wine vinegar)
salt and pepper
Heat up your gas grill to 350 degrees.  Turn the burners to low when you are ready to start cooking.
Shell and devein the shrimp.  Crush the garlic clove.  Toss the shrimp in 1 tablespoon of olive oil, a liberal pinch of pepper and the garlic.  Let the shrimp sit for about 15 minutes before grilling.
Slice the onion into slices 1/2 to 3/4 inch thick.  Very lightly coat the onion slices and the green beans in olive oil.  Sprinkle with a little salt and pepper.
Cook the beans and the onions on the grill until soft all the way through.  A grill basket is really helpful here, it's very difficult to grill beans without one.  The beans will take 5-10 minutes to cook, the onion may take up to 20 minutes depending on how thick the slices are.
When the green bean are off the grill, grill the shrimp until just cooked through (they will feel firm when you press on them).  Large shrimp will take about 5 minute per side.
While the shrimp is grilling, cut the beans into 1 1/2 inch long pieces, dice the grilled onion and cut the tomatoes in half (or in quarters if they are very large).
In a small bowl, whisk together 1 tablespoon olive oil, 1 teaspoon vinegar, 1/2 teaspoon soy sauce and 1/4 teaspoon sesame oil.
When the shrimp are cooked, combine the shrimp, beans, onion and tomatoes in a large bowl.  Toss with a little bit of the sesame oil dressing and add more dressing until you like the taste.  You will probably have a little bit of dressing left over.  If the shrimp are not very salty, you could add a dash more soy sauce.  Sprinkle the almonds on top of the salad.
This salad can be served warm or cold.
Enjoy!