I'm feeling guilty about how far behind I am with my monthly table runner project. I admit I'm running out of steam.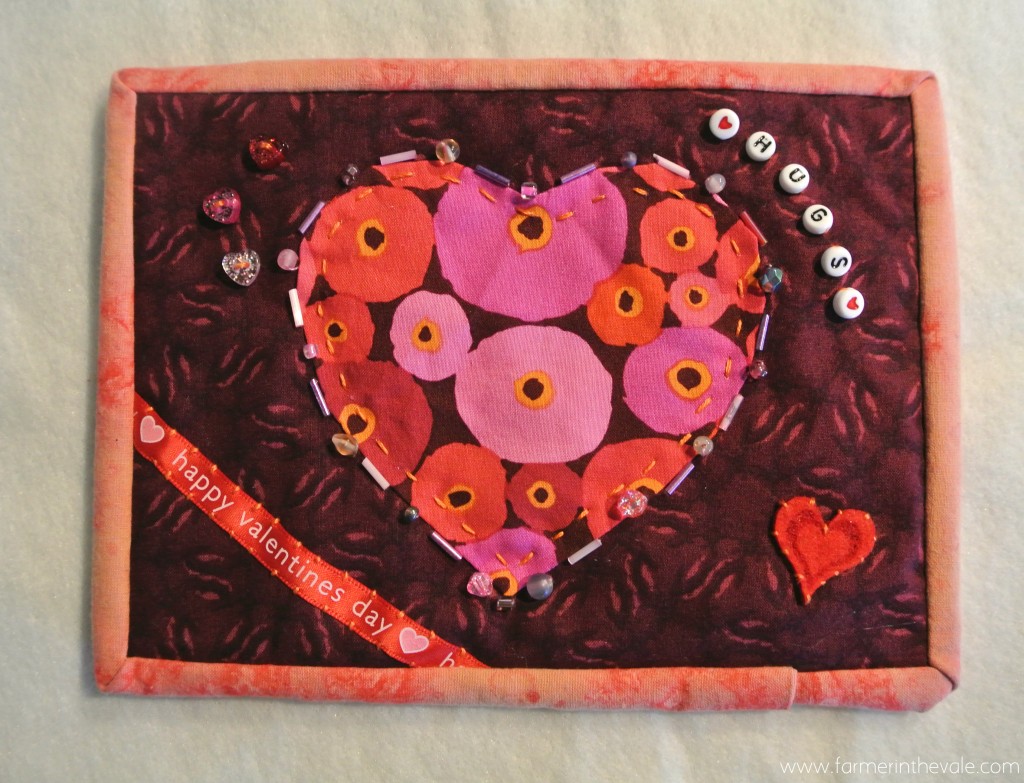 To re-energize I signed up for a Valentine swap. Instead of making a paper card, mine will be little quilts. Three small Valentines should be much easier than a table runner, right?
As always I started with fabrics. I thought pink and purple would be fun and I found this great poppy fabric in my stash. I also found a lot of embroidery threads that would work nicely.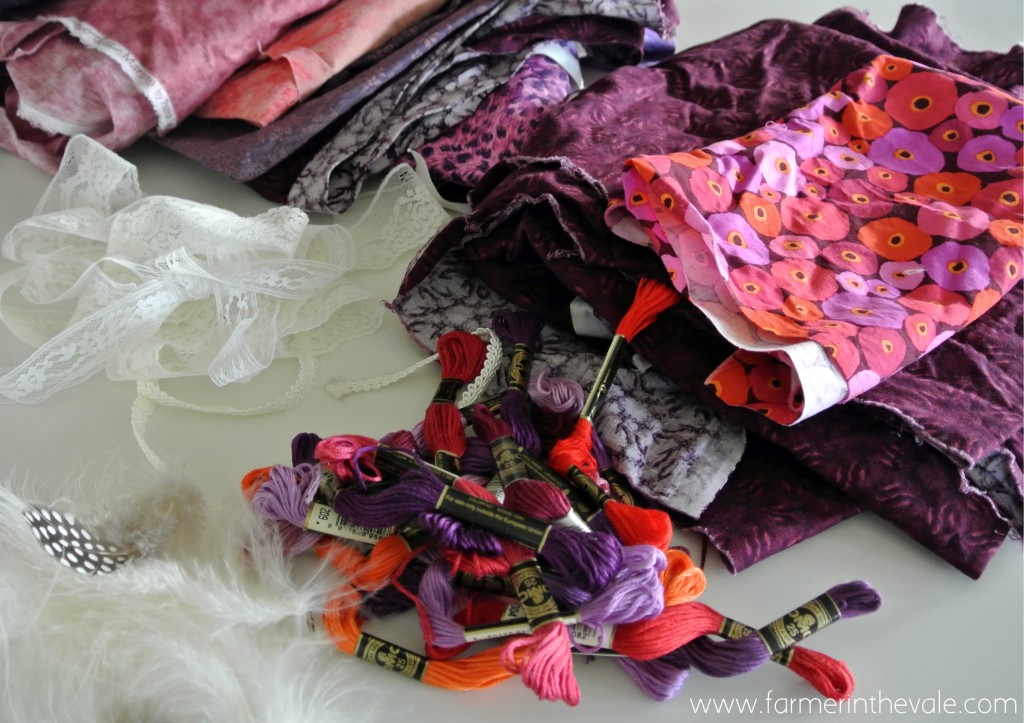 My Valentine is 5×7″. I appliqued a heart made from the poppy fabric onto a solid piece of purple fabric. The back is strips of purple and pink fabrics.
I embellished the heck out of this thing. I didn't have a lot of bling in my stash so I ran to the craft store and picked up some beads and ribbons. I know that breaks my rule about buying new stuff, but since I'm sending these to strangers they need to be awesome.
Side note – my local craft store has an aisle called "bling". No lie.
The Applique
First I cut out 6″x8″ rectangles of the purple fabric for my background.
I drew the heart free hand on plain paper and used scissors to get the shape exactly right. I used the freezer paper method to applique the hearts onto the background fabric. Check out the details here.
I used an invisible stitch to attach the hearts.
Embellishmania
Next I sewed on all of my doo-dads.  I used embroidery floss and visible stitching to add a pop of color.
Depressing note – I recently had to admit that I need reading glasses. It turns out that it's not easy to sew and watch TV simultaneously while wearing reading glasses. Getting old is inconvenient.
The Back
I sewed together 2″ strips and turned them 45 degrees.  I cut the panels into 8×10″ squares.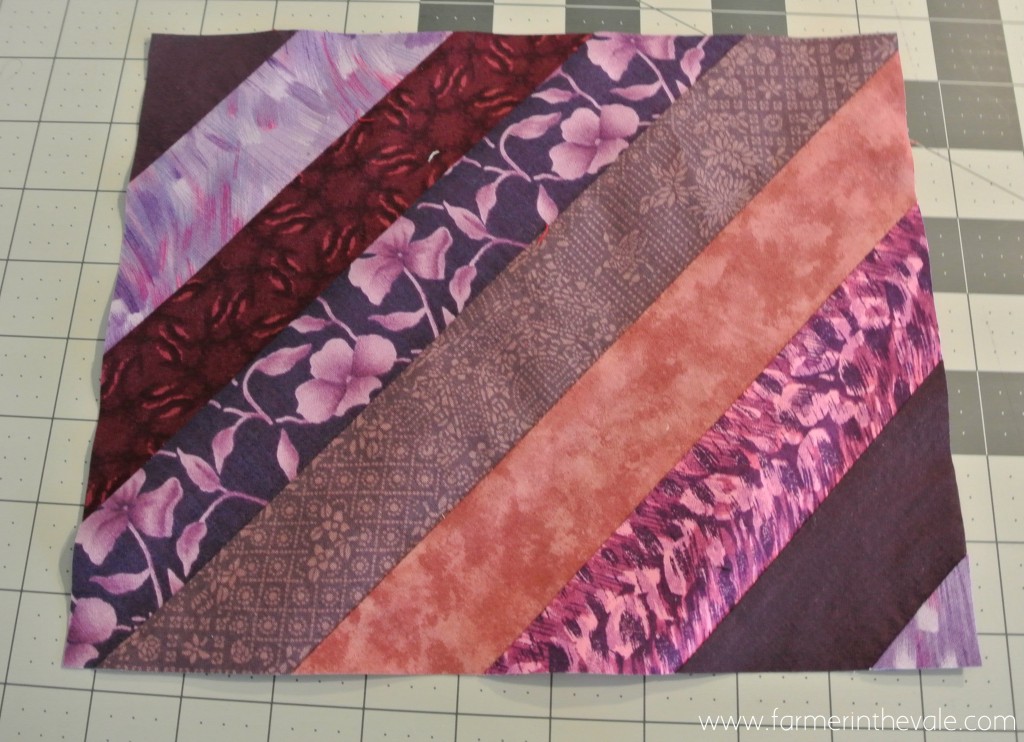 I sewed some ribbon onto the stripes for additional interest.  I embroidered my initials and the date.
Quilting and Finishing
I did the bare minimum of quilting.  Using embroidery floss I traced the inside edge of the heart.
I finished the quilt the same way I always do.  See the details here.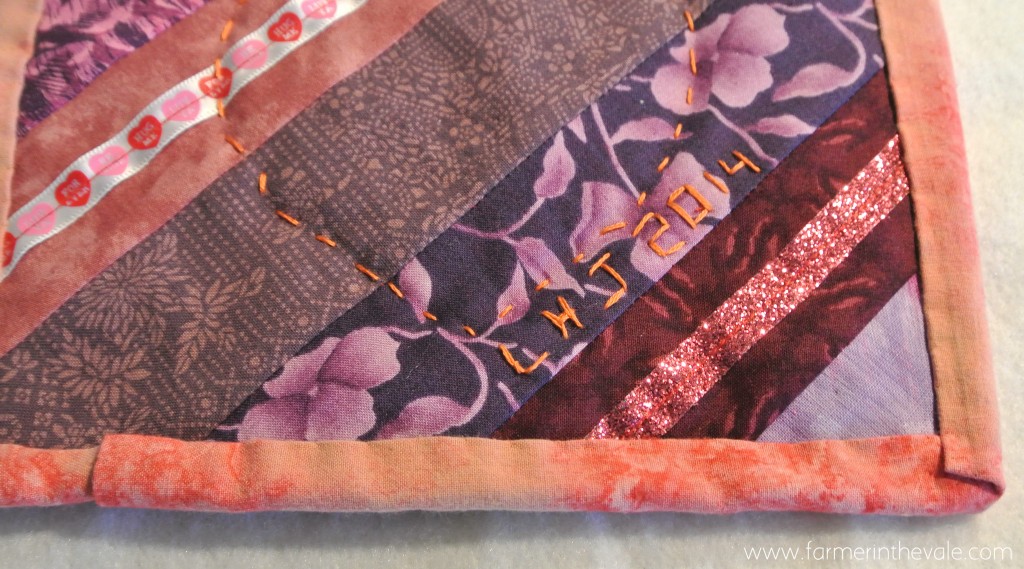 I'm not sure this was any easier than a table runner but I had fun with the embellishments. Don't call me a quilter anymore. I'm a mixed media artiste.
Happy Valentine's Day!